7 Ways To Easily Improve Your Website's SEO Ranking
Written: June 26, 2020
Reading Time: 7 mins
Your SEO Ranking is an important factor in determining how many visitors you attract to your website.
The simple fact is that people today rarely venture past the first or second page of results from a google search.
It stands to reason then that if your website isn't in the top 10/20 results then the chances of your page being found are slim to none.
There are a number of simple steps you can employ right off the bat to vastly improve your SEO Ranking.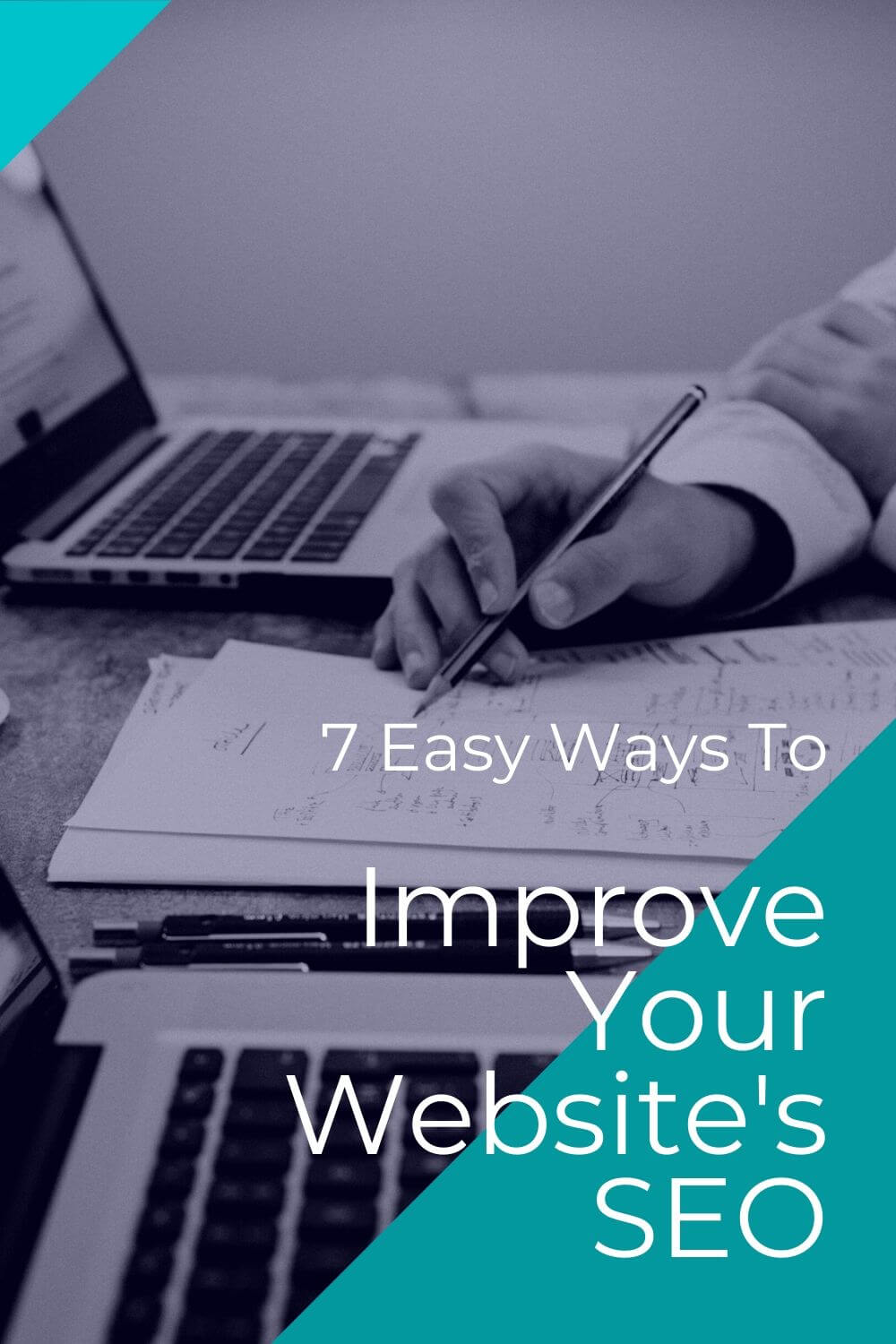 ---
1. Use Keywords
Keywords are a vital way of increasing your website's SEO ranking.
For those of you not familiar to keywords they are specially selected words relevant to your subject matter.
For example the keyword for this post would be "SEO ranking".
When Google bots look through the site they will search for these keywords in the post title, page URL and the post's content.
They will see that this page is useful for information about SEO ranking and will therefore bump up the order in which the site comes up in a Google search.
It is important to take some time to decide on effective keywords as a badly chosen one can affect your SEO in a negative way.
Keywords should be unique but relevant to your website's subject matter.
Once you have identified an optimal keyword be sure to include it in your page title.
It should also be included in the meta description and the meta keyword fields.
Keyword density is also important to consider. Packing your posts and pages full of keywords can negatively affect your SEO as Google bots will recognize this as spam. It is important to get the right keyword density for the best SEO results.
---
2. Name Page Titles Correctly
The title is the first thing that the user sees upon browsing to any page on your website.
It appears at the top of your web browser. Make it memorable and unique but also relevant to the content on the page for best results.
More often than not the page title should be the keyword that is used throughout the rest of the page.
Title tags help search engines and visitors to your site to see what the page is about.
It provides the vital information to search engines and is therefore beneficial in getting a good search engine rank.
---
3. Publish Great Content
Quality content specifically tailored to your audience is essential in driving up your website's SEO ranking.
Identify keywords or phrases that apply to each page/post and be sure to reference them throughout the page.
At the same time, it is important not too overdo the use of keywords as this can negatively affect your SEO doing more harm than good.
It should go without saying that your website be free from spelling mistakes and bad grammar.
Proof read all of your content before you publish it and use an online spell checker for words you are unsure of.
It sounds like a simple thing but it is extremely important for not only SEO ranking but for your your audience who will be deterred from a website full of spelling mistakes.
---
4. Social Media Integration
Linking your different social media accounts to your website will benefit both your website's SEO ranking and your social media profiles.
If you initially began your web presence with a Facebook page and have built up quite a number of followers then linking your Facebook page to your website will more than likely attract your followers.
It is possible to link your website to your social media feeds on your website meaning that anytime you post a tweet or a Facebook update it dynamically updates on your website.
Dynamic content on your website is a great way of staying on top in search engine results.
You can also link your blog to your social media accounts so that anytime you publish a new post on your website it is pushed out to your Facebook, Twitter, Google + (etc.) profiles.
---
5. Publish Content Regularly
Publishing new content very rarely, even if it is excellently written, is in most cases not enough to keep your SEO ranking high.
Content should be published regularly, even a couple of times a week, to have continual benefit to your SEO ranking.
Not only is it important to publish regularly, but it is also important to publish your posts at optimal times of the day.
Most people are as you'd expect are most active on social media and what not at 8am-9am in the morning and 6pm-8pm in the afternoon although this can vary depending on your audience.
If you are unsure a simple bit of research on your target audience will enable you to identify the optimal times to publish your posts in order to reach the larges amount of people.
---
6. Use Link Building
Internal Linking
Internal linking is where you place a link on one post to another relevant post within your website.
This will encourage visitors to your site to stay longer by reading older posts.
Internal linking also increases your SEO by increasing the rank of your internal posts.
It is important to avoid linking every single post together, it is enough to just include the posts relevant to the post you are working on at the time.
External Linking
External links, as the name suggests, refers to links on your page that take you to relevant content outside of your own website.
This can vastly help your SEO ranking as accurate outbound links not only allow search engines to understand the subject area of your site but it will also increase your site's trustworthiness and quality.
Be sure that your external links are going to reliable, trustworthy sources that actually add to your post's message.
Negative sources such as spamming sites can have a very bad effect on your SEO ranking.
Google bots will connect you to these spam sites and will effectively associate you as a spammer.
As with anything in life too much of a good thing is bad for you.
Too many external links will affect your website's SEO in a negative way so avoid using too many in any particular post.
Backlinking
Backlinking from other sites is the third way of link building.
Backlinks are basically links to your website from other websites.
This is another way in which social media integration is important to your seo ranking.
Another way to increase the number of backlinks is to guest blog on other well known blogs.
This is an easy way to get your name out there and to increase visitors to your site.
---
7. Image Optimization
There are a few steps to follow when optimizing images for SEO.
Firstly, it is important to name all images appropriately, for example if you are creating an about me page chances are you will include a photo of your handsome self.
Consequently you would name this image either "about me" or include your own name.
Following on from this it is also beneficial to give each and every image an alt tag and a description.
This adds extra meta data to images which is beneficial for search engines and as a fallback should the image fail to work.
One last step you can take to optimize your imagery is to choose the appropriate file type.
The most common file types used on the web are png and jpg.
png - images are used for icons and vector graphics. They are also used on images with transparency but are not used for images with gradients.
jpg - images are used for more complex imagery, photographs being an excellent example.
---
Useful SEO Tools and resources