This Is How I Publish My Newsletter Every Week Without Fail
April 25, 2022
Reading Time: 8 mins
At the time of writing this, I have published an edition of Design Insight every week for the last 49 weeks. Once I'm finished writing this article I'll be scheduling edition 50!
I say this not to brag but to take stock of where I'm at in this process of creating and sending out a weekly newsletter.
I wanted to document what goes into creating my newsletter each week with the hopes that someone may find it helpful for starting their own newsletter.
Here's an overview of the process: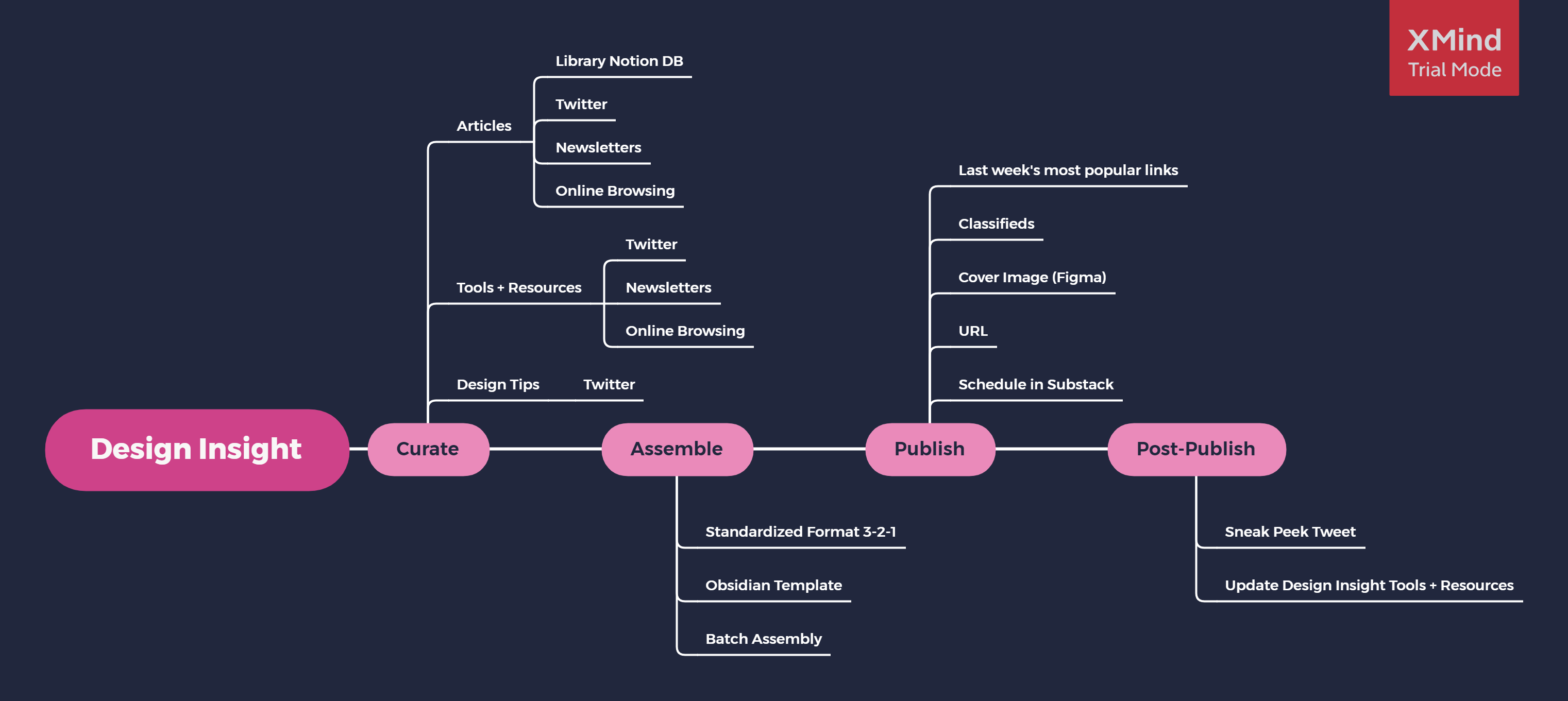 I've divided things up into 4 sections:
Curating Content
Assembling Content
Publishing Content
Post-Publish
---
Curating Content
Curating content for Design Insight is probably the easiest and most enjoyable part of the process.
This is because I've set up a system for finding and capturing great content I think people will enjoy. It also helps that I have a standardized newsletter format (more on that in the next section) so I know what types of content I can collect.
Let's break down the different types of content I look for and how I curate the best resources to go into Design Insight each week.
Articles
Each edition of Design Insight has 3 articles that I've read, found interesting, and summarized into its 3 main ideas.
These articles can be about design, productivity, writing, creativity, or anything interesting to me that I think will be interesting to others.
I pick out these articles from my Library in Notion.
If you want to see how the Library Notion dashboard works, I wrote an article describing the system here: Notion Library Tour - How I Capture Knowledge On What I Watch & Read.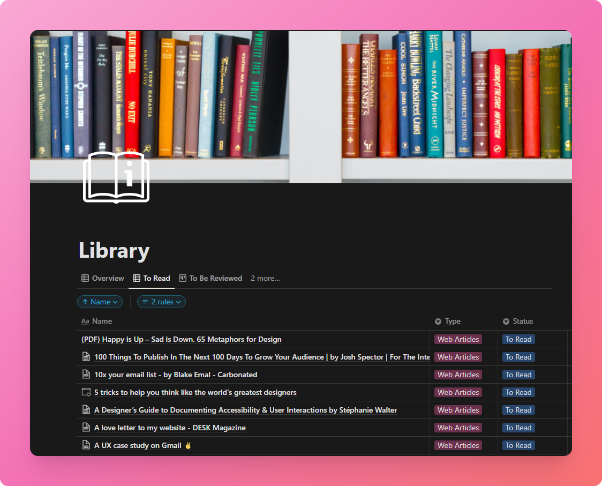 Essentially the Library is my hub for content consumption.
Any interesting articles, videos, or podcasts I save to read later end up in here for processing. I find this content from other newsletters, Twitter, Medium, and general online browsing.
The output of my content consumption practice is My Knowledge Vault of Digital Notes digital product which you may already be familiar with.
I'm essentially repurposing the work I already do for my Knowledge Vault and funneling it into Design Insight.
Tools + Resources
Each edition of Design Insight has 2 tools or resources relevant to the world of design, productivity, or creativity.
I find useful tools and resources pretty frequently from scrolling through my Twitter timeline. I'm lucky enough to be connected with some talented creators who are building really useful things so I'm happy to promote them in my newsletter.
Other places I find useful tools and resources include other newsletters and general online browsing.
This approach is less than glamorous but I capture all the tools and resources I think would be helpful into a Tools + Resources note in Obsidian. I then pick the best 2 from the list each week and mark them off so I know which ones I've already included.
This part of the process could certainly be improved but it works well enough for me right now.
Design Tips
Each edition of Design Insight has 1 design tip.
I try to find practical and useful design tips that people can learn from each week. It might be something you never thought to try before or something you know but probably could be better at practicing.
Right now I find design tips through Twitter.
I save useful tips to my bookmarks then at the end of each week export those into an Obsidian file entitled "Design Tips".
I then select the best design tip from the list each week and mark it off so I know I've included it in a previous edition.
I'd love to include different channels for finding actionable design tips so if you can think of any be sure to leave me a comment.
---
Assembling Content
Now is a good time to talk about the standardized format of the newsletter.
The format for Design Insight was inspired by James Clear's 3-2-1 newsletter format. I've followed this approach since the first edition of the newsletter even though some aspects have changed over time.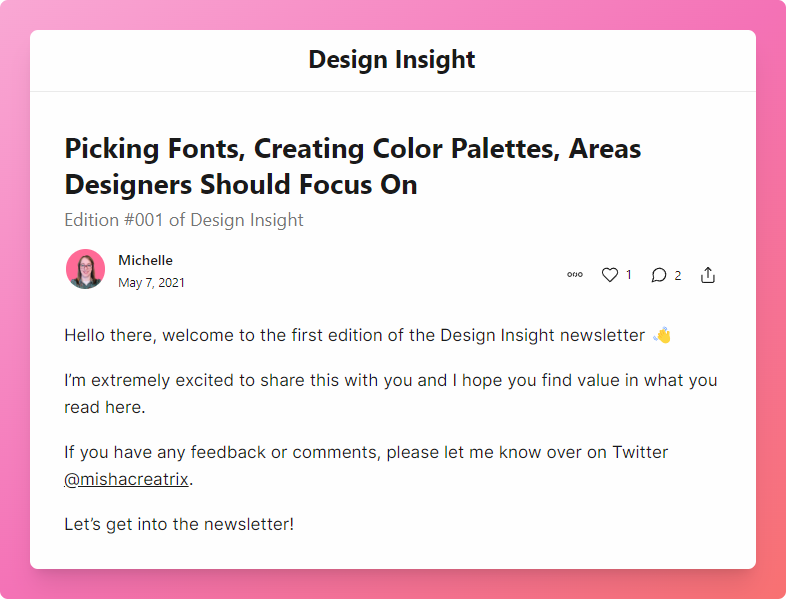 The current format is:
3 Articles
2 Tools and Resources
1 Design Tip
The standardized format means readers know what they're getting each week. It also makes it easier for me to assemble each edition of Design Insight because I can use a template.
The whole assembly process takes place in Obsidian using a Newsletter template.
Everything I've explained in the content curation section above means I only need to look in 3 places to find the content for Design Insight each week:
Notion library
Tools and Resources file
Design Tips file
For each edition I create a new note, add the template, fill in the content, then it's ready to be published.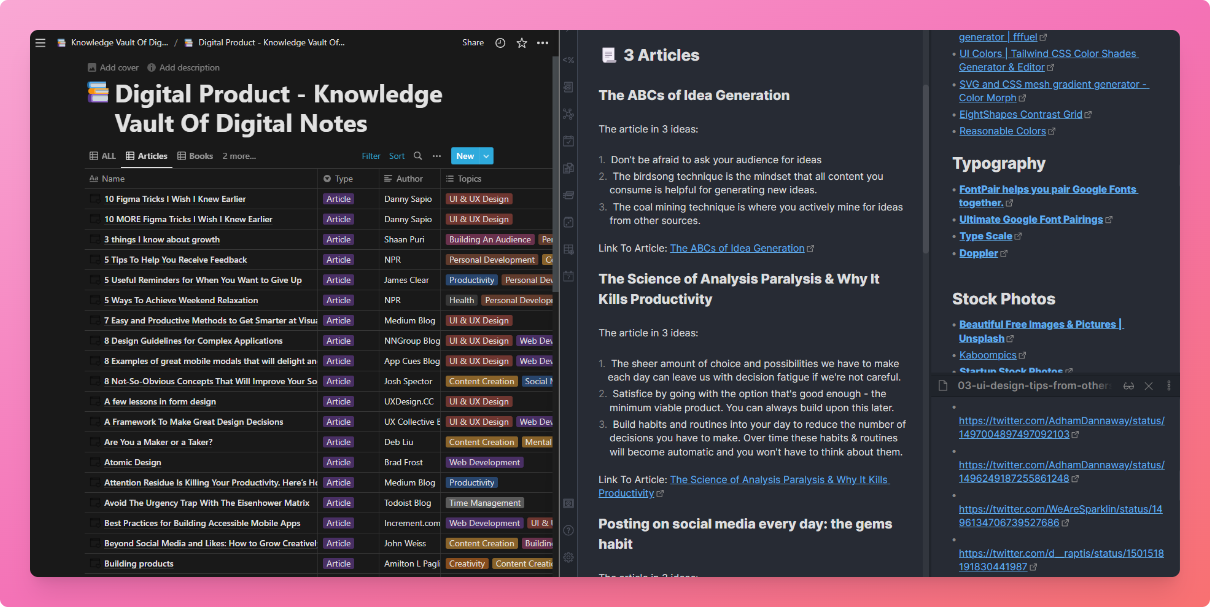 I generally assemble a month's worth of editions at a time. This has been really helpful for weeks when I'm sick or something unexpected crops up.
---
Publishing Content
Once the newsletter is assembled it's time to publish in Substack. Well… more accurately, it's time to schedule.
I schedule each week's edition on Monday morning so it's checked off my list as early in the week as possible.
The first thing I do is finish assembling the newsletter for that week.
I include the 2 most popular links from the previous week. This requires going into Substack and checking the analytics from last week's edition.
A recent addition to Design Insight is Classified ads which I'm really proud of (article to follow on this process soon). I make sure these are filled in before moving everything into Substack.

The next step is just a copy and paste into Substack's editor. I give everything a final sanity check, correct any weird formatting, and it's good to go.
I create a cover image for that edition in Figma and add it to the newsletter.
I also make sure the URL is set to match the current edition.
I schedule the newsletter for Friday at 5 pm GMT and everything is ready to go!
---
Post-Publishing
After hitting schedule, I create a tweet about this week's edition to get people hyped up.
I try to vary this tweet each week but it generally gives you a sneak peek about what you'll find in this week's Design Insight.
What you'll learn in this week's Design Insight:

• How to generate more ideas
• Cognitive bias and the design process
• Chaos in product design
• A free tool for recoloring SVG images
• Battle to see who knows their typefaces better

👇👇 pic.twitter.com/FcEbGDdB6z

— Michelle (38/100) (@MishaCreatrix) April 11, 2022
Once that's done, I update the Design Insight Tools + Resources digital product with the current resources. This resource gives people a way to access everything I mention in Design Insight in one place.
---
My Key Take Aways
I have published an edition of Design Insight every week for the last 49 weeks with this system, so I must be doing something right :P
Content curation is an enjoyable process for me because I have a trusted system in place to manage everything. I use Notion to manage my Library of content to consume.
Work smarter not harder. I was already curating content for another digital product so it wasn't much more work to repurpose that work for my newsletter.
Twitter is a great network to find things worth amplifying in a newsletter. I'm convinced you could just use Twitter to curate content for your newsletter.
Having a standardized newsletter format allows me to use a template that speeds up my workflow.
Batching multiple editions at once has been a game-changer for my level of output.
A tip I learned from Dylan @growthcurrency early on in my newsletter journey is to have the URL of the newsletter denote the edition. For instance, this week's edition will be https://designinsight.substack.com/p/050. This is much simpler than having the URL default to the title.
Repurposing my work into other digital products has been a great use of my time. I hope people find the Design Insight Tools + Resources helpful!
---
If you enjoyed this, please consider sharing it with someone else who might find it useful 🤗